Radar Imagery
This page contains a list of publicly available weather radar imagery worldwide.
Countries on this page are mostly organized by region according to how the United Nations defines geographic regions on the page
here
. (click the "Geographic Regions" tab on that page) This groups some countries that many consider to be in Europe into western Asia instead.
Tropical Globe's Database of Publicly Accessible Weather Radars
Our weather radar database map has been moved to its own page. You can click the image below to view it. Because the map uses a lot of memory, we decided to move the map to a new page.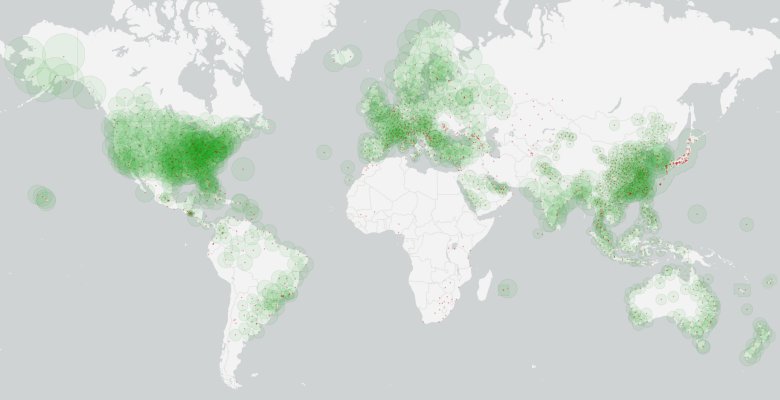 Does the 3D option on our map not work in Chrome? You may need to adjust Chrome's settings. You can learn more here. When we set "Override software rendering list" to "Enabled", it worked for us.
Our radar database contains over 1,400 radar sites from over 120 countries and territories.
For the United States, by default we mostly only have
NEXRAD
and
Terminal Doppler Weather Radar
(TDWR) sites displayed. You can also choose to view radar sites from U.S. television stations by selecting that option below the map. There are a lot of radar sites from TV stations in the United States. While we have added some of them, there are likely many that we have missed. If you know of some we missed, let us know. For other countries, we mostly only include radar sites from government agencies, though we would be interested in adding others as well, especially if there is less coverage for that area available.
The ranges on our map indicate the maximum range of publicly available data, either currently available or in the past. Because of obstacles, such as mountains, the range noted for many radars does not indicate the actual coverage of the radar. Additionally, while some radars have long ranges, due to the curvature of the Earth the radar will not be able to see lower levels at these extended ranges.
Green circles indicate radars for which radar data is publicly available. Red circles indicate radars that do not currently have data available to the public in real-time, but either have in the past (and the radar could still be operating), could eventually be available in real-time, or at times has had imagery occasionally released (such as through social media). Some radar sites have no range noted but may be included for other reasons. Recently, we have not been drawing ranges for radars that don't have current data. When we eventually add more options to the map we may add red circles again and give people the ability to hide them. Click a radar site for more information, including a link to imagery, if available. This page, and our map, will never have a complete listing of all radar sites. It is intended to be mostly about radar sites that currently have radar data available publicly. Due to the massive number of radar sites on our map, we don't routinely check all the radar sites. If you know of a radar site that is not on our map, or find a link that no longer works, please
contact us
.
The primary source for our database was the World Meteorological Organization's (WMO)
Weather Radar Database
. (
about
) Most of the radar sites on our map come from their database. A second primary source was RainViewer, an app displaying radar data around the world. While they also use the data in the WMO database, they also had many additional radars in their database. RainViewer has links to radar data
here
for many countries and has a map of those radar sites
here
. Some of the European radar data was also found using
EUMETNET's OPERA Database
. (Operational Programme for the Exchange of Weather Radar Information from the Network of European Meteorological Services) You can learn more about their database
here
. Some of the U.S. television stations were found using the
advanced search
at the Federal Communications Commission. (for the option "Match only the following radio service(s):" we selected "RS - Land Mobile Radiolocation") Many other sources were used as well.
Some of the radar locations in the sources we used were estimated. We verified the location of each radar in our database using satellite imagery. The coordinates we use are not official. We used coordinates we selected based on the location of the radar in either Google Earth or another similar source we used for satellite imagery, such as the
Sentinel Hub EO Browser
.
For links to most of the world's meteorological services, many of which are not listed on this page, view the list of
National Services for WMO Members
.
If you would like to view some of the supporting information for this project, released under the terms of the GNU Lesser General Public License, view the unminifed JavaScript file
here
for more information about some of the radar sites. If you want to use our interactive map on your own website, please download the map page (including all scripts and the CSS file) and upload it to your own site. You can download and use the script however you like for free, with or without attribution to us. (ArcGIS attributions on the map are required)
United States Radars
Other North American Radars
South American Radars
European Radars
African Radars
Asian Radars
Oceanic Radars
Page last modified on July 19, 2022